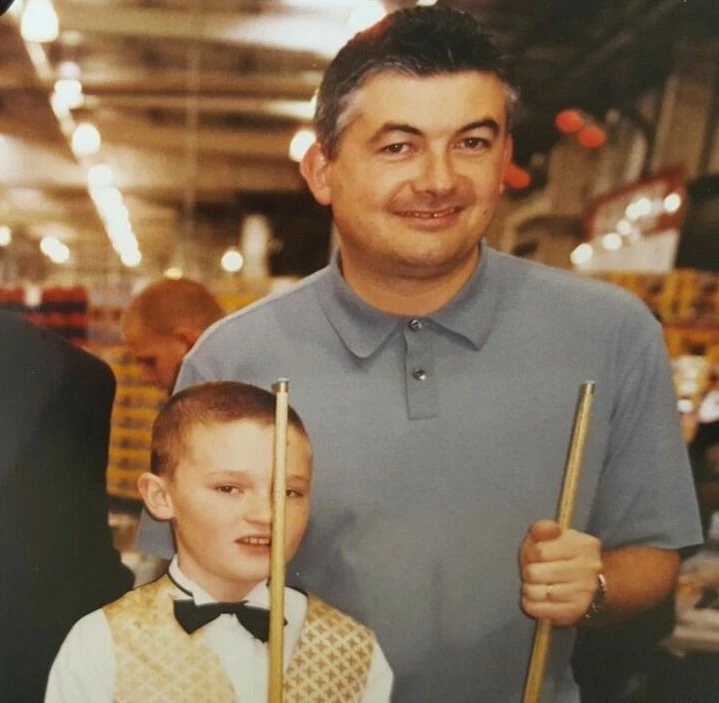 Between 1997 and 2004 I ran my first junior programme from Frames Snooker Club in Liverpool. This was also where I had trained in previous years when working towards turning professional.
The Saturday morning club we ran there proved to be very popular from the start with up to 55 juniors attending the 3 hour sessions which included practice, tournaments and coaching.
It was all going very well and the programme soon unearthed many promising young prospects. Then one Saturday morning in 1998 someone quite extraordinary came to light. For amongst all the organised chaos a new player had come in under the radar and was already playing on one of the tables.  I was making the draw for the competition in the bar area when a number of people began to beckon me into the snooker room to see this new player. When I went in the boy was playing near the far corner of the room. He was tiny but was bouncing around the table and potting almost everything he looked at.  Although he was only small he had this energy around him, that rare spark which can electrify a room. I could barely believe what I was seeing.
The boy's name was Danny McCann and he was just 8 years old. He had played on pool tables before but this was his first time on a full sized table. He was instinctive, uninhibited and incredibly natural: everything I loved in a player, and I just couldn't stop watching him.
In coaching terms I was young myself, yet all of a sudden I had this incredible talent to help nurture. I can still recall the sleepless nights spent working out how I was going to help him develop his potential.
We both hit it off and worked well together and by the time he was 10 he had already become a regular century break-maker and was winning tournaments way above his age range. He then, rather ludicrously, made a maximum 147 aged 11.
At 13 he won the English Junior Championship and an open title in a very strong local men's league which prompted that league's committee to restructure a handicap system that had been set in stone for years. By the time he reached 14 he had already made hundreds of century breaks and was regularly beating both ex- and current professionals, and even won a couple of pro-am tournaments.
He then reached two Merseyside Open finals at 15 & 16 respectively. A win in either of those finals would have seen Dan comfortably break the record for the youngest ever winner of this event, which was set by former world champion John Parrott. Incidentally that record would later be taken by a 15 year old Sean Maddocks.
However, with the mental side of snooker playing such a pivotal role, aiming for the top in this sport can be tough. And for all Dan's incredible talent it became something that wasn't for him and he stopped playing at 18 years of age.
This boy was an unbelievably rare talent, and I wouldn't hesitate for a second to say that I genuinely believe he was in a similar ability bracket to an O'Sullivan or a Trump.
As with many special talents Dan was somewhat unpredictable. He would either blow you away or blow up and this pattern would continue to some degree throughout his tender years in the game. However, when he was on form, which was most of the time, he was awesome.
Of course, it would have been great to see to what heights he could have scaled with a career in snooker but it just wasn't meant for Dan. But, my God, did he create some memories.